SAINT-NAZAIRE, France — Celebrity Cruises revealed new menus, entertainment and spa/wellness programs for the Celebrity Apex during a hard-hat tour at Chantiers de l'Atlantique on Tuesday.
Celebrity Edge first floated in 2018, has been a wildly successful ship, according to Vicky Garcia, COO and co-owner of Cruise Planners. But, for this second in the series, Celebrity didn't rest on its Edge laurels.
"They tweaked things to be even better and different," Garcia said during a walk-through of Celebrity Apex, which is scheduled to debut in Europe in March. 
Celebrity president and CEO Lisa Lutoff-Perlo said that as the company builds ships, "We make a lot of changes along the way. We do it because we want it perfect."
The biggest changes with Apex, she said, involve the entertainment. 
Three new stage shows are set for The Theatre, along with new technology such as towering LED screens that curve around the stage to make the performances more immersive and exciting. 
The new productions include "Crystalize," Which Celebrity's new vice president for entertainment Lisa Lehr called "our eye-candy tech show." It employs lasers, video, aerial acrobats and an underwater ballet sequence made possible by one of those new tech marvels: a towering scrim with eight 20K laser projectors that create a 360-degree, wraparound picture for the audience.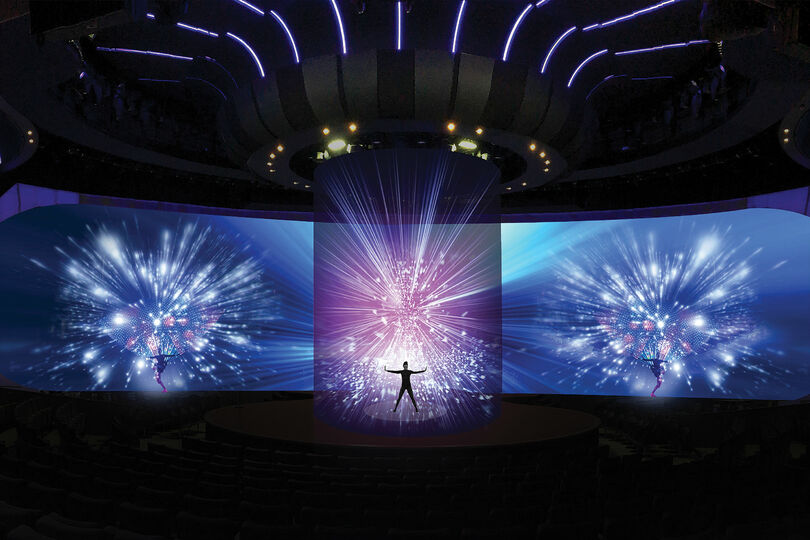 "Rockumentary" stars classic rock moments from Wembley Stadium to Woodstock. In a twist, audiences get to decide the finale by voting in advance using the Celebrity app.
And "Tree of Life," a "feel-good show," in Lehr's words, features a 20-foot tall "tree" with more than 3,000 LED leaves. 
Meanwhile, Eden, the triple-deck, glass-walled lounge in the aft of the ship, will have a theme that changes daily, with daytime activities that are carried through in the nighttime entertainment. For example, a daytime guided meditation will be followed by a "Night of Chill" ultra-lounge concept with acoustic music. 
Another day, interactive art experiences will lead into "Night of the Arts," with interactive performances. 
"Eden is beautiful, one of the most stunning spaces I've seen on a ship," said Tawnee Sons, a Cruise Planners agent. When Edge came out, Eden had a "unique, artsy concept" that enthralled some but put off others, she said. Sons think the revamped programming there should appeal to a wider range of people. 
The ship's nightclub, The Club, will provide more intimate, cabaret-style entertainment such as new takes on classic circus acts with aerial acrobatics. During the day, The Club will host all kinds of activities, from live-band karaoke to archery and dance classes. 
When it comes to dining changes, new and expanded menu offerings are planned in many Apex venues. 
Cornelius Gallagher, vice president of food and beverage at Celebrity created fresh signature dishes for each of the four main dinings rooms: Cosmopolitan (new American with international influences), Cyprus (Mediterranean), Normandie (French) and Tuscan (Italian). An enlarged galley enables expanded offerings in Raw on 5 and the Magic Carpet, the movable, a cantilevered platform that is the hallmark of the Edge series
The Fine Cut Steakhouse, which Gallagher said is Edge's busiest speciality dining venue, will be getting upgraded proteins. And items will be added at the Rooftop Garden Grill, as well. (There, additional canopy coverings and screens will calm the wind.)
Gallagher also revamped the Eden menu, with an emphasis on flavour and local sourcing. For example, when the ship is in Spain, one dish could be fresh-caught, blazing-red carabiniero jumbo prawns.
A new storyline for Le Petit Chef, the 3-D digital animation in Le Grand Bistro, is also coming. Plus, Celebrity Apex will be adding the Craft Social Bar, which debuted on Celebrity Equinox. This casual spot offers draft cocktails, wines on tap and more than 50 craft beers served by a cicerone (a certified beer sommelier). Celebrity-style comfort food will be available  —  think mac and brie or Kobe beef sliders.
When it comes to the spa, a new collaboration with OneSpaWorld is creating broader wellness programming. Apex will offer F45 training, popularized by the actor Mark Wahlberg. The 45-minute sessions involve cardiovascular, strength and interval training. 
A new Women in Wellness program will highlight practices by noted influencers like Katie Brauer, yoga master and founder and CEO of The Yoga Professional, and Ruth Zukerman, co-founder of Soul Cycle and Flywheel Sports.
Local ingredients from visited destinations will be incorporated into a new Destination Wellness program. 
Joyce Landry, CEO of Landry & Kling Global Cruise Events, a meetings specialist, liked what she saw on Apex. 
"Edge is a beautiful ship, but when you create something new, you can have these little adjustments that elevate it to the next level," she said. "Celebrity has done that with Apex."