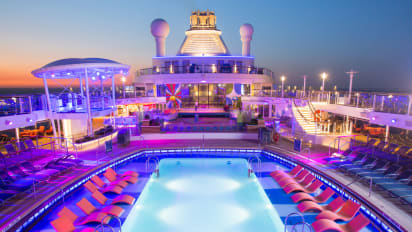 Cruise ships are likely to be restricted to carrying fewer guests to allow for "more natural space" when cruising first re-starts after the Covid-19 pandemic, according to the boss of Royal Caribbean UK.
Speaking at the line's first 'Café Royal' webinar for trade partners, vice president EMEA Ben Bouldin said that as well as enforced reduced load factors, cruise lines are also anticipating more automation at check-in, increased screening and enhanced medical facilities and capacity on board.
He said lines were also looking at new procedures to disembark guests quickly from ships in the event of a future Covid-19 outbreak and said social distancing measures in dining rooms and around the pool decks are all likely for post-pandemic cruising.
"Until there's a vaccine, we're trying to understand what the new normal is. Things will be really different. Be reassured we are looking at absolutely everything," Bouldin said.
"It's incredibly complex. We have to get the right balance of accommodating changes to make sure everyone is safe, while not undermining our guests' enjoyment of their holiday."
Bouldin added that there had been confirmation from Clia in the US that a medical letter would not be required to travel and he said that he did not expect to have to give mature travellers any special treatment. He also hopes the line would continue to be able to support guests with disabilities.
"We are not expecting to have to treat people over 70 any differently. We are confident we have the ability to look after them," said Bouldin.
"And we hope to be able to support guests with all sorts of disabilities. Our intention is absolutely to remain an inclusive holiday experience."
Bouldin said the line was preparing to "shout loud and proud" about its health and safety protocols when it returns to service and said the re-introduction of ships into the market would be "staggered" to allow it to complete the "mammoth task" of getting crew in the right places.