Norwegian Cruise Line's Pride of America docked in Hilo, Hawaii. Photo Credit: Tom Stieghorst
HILO, Hawaii — Three months ago, bright orange rivers of lava were gushing from the craters, vents and fissures of the Kilauea volcano on the Island of Hawaii in a spectacular display of nature's awesome might.
Now, the fireworks are over, at least for the moment, and tourism businesses on Hawaii's biggest island are trying to rebound and encourage travellers scared off by the violent eruptions to come see the new landscape.
The 50th state has ponied up an additional $2 million to promote the Island of Hawaii in a bid to bring visitors back. And one of the main engines of interisland tourism, Norwegian Cruise Line, is staging a rare promotion for its typically sold-out cruises.
The incentives include free roundtrip air from five West Coast cities and airfares ranging from $299 to $799 from 33 other cities.
The three-month Kilauea eruptions started in May and produced some of the hottest and fastest-moving lava ever measured. News reports of boulder-size chunks of lava crashing through roofs kept many tourists away, even as some flocked to the island to witness the spectacle.
The eruptions tailed off in August, and lava flows have been dormant for about six weeks, leading to the partial reopening of Hawaii Volcanoes National Park on Sept. 22.
"We call it a pause because we never know when, if or how it may come back," said Ross Birch, executive director of the Island of Hawaii Visitors Bureau. Birch said monthly visitor totals are currently down between 15% and 20% compared with a year ago.
Both Hawaii and Norwegian are angling for a rebound now that the island's geology is more normal and less dangerous.
Norwegian CEO Andy Stuart said of the summer eruptions, "We had a little slowdown during that period. I would say demand is now similar to what it was before all of that news coverage. But we had a period of time where business was a bit below, so that's a gap you want to make up over time."
More than 2 million people visited Hawaii Volcanoes National Park last year, making it one of the state's biggest attractions.
In the aftermath of the eruptions, Birch said, the state budgeted the extra $2 million –­ half of it targeting the U.S., the other half Japan — to market the Island of Hawaii this year.
The May 4 eruption, accompanied by an earthquake, forced the closing of the national park. Tour operators scrambled to modify their offerings to take advantage of the changing conditions while still keeping safe, Birch said.
Ross Birch, executive director of the Island of Hawaii Visitors Bureau spoke about efforts to persuade tourists to return to the island following the Kilauea volcano eruptions. Read More
Lava typically inches along, but at one point in July hot lava from Kilauea travelled nine miles in just two days. It closed roads, isolated homes, threatened to overrun a geothermal energy plant and left behind huge patches of freshly cooled black volcanic rock.
When activity subsided in August, the lava lake in the Kilauea Crater had been drained, and for the first time since 1983, there was no active lava flows on the Island of Hawaii. That presents a challenge for tourism since the continuously active volcano was one of the things visitors came to see.
"The lava flow's been in our favour for decades now," Birch said. With its end, at least for now, the new opportunity for visitors is to witness the resulting transformation firsthand. "Today's story is just coming and observing what has happened through this major eruption that we had."

New sights to see
It isn't often that a tourist destination actually adds land to visit, but that's exactly what happened as a result of the eruptions. Lava flowing to the ocean added more than 875 acres to the island.
Tour operators are busy devising tours for both land- and ship-delivered visitors, Birch said. One obstacle is that many of the changed areas are southeast of the park boundary, in residential neighbourhoods.
He said one possibility is a tour of a new black-sand beach that was created adjacent to a park.
Norwegian brings about 110,000 visitors to Hawaii annually and generates about $250,000 in economic activity with each port call.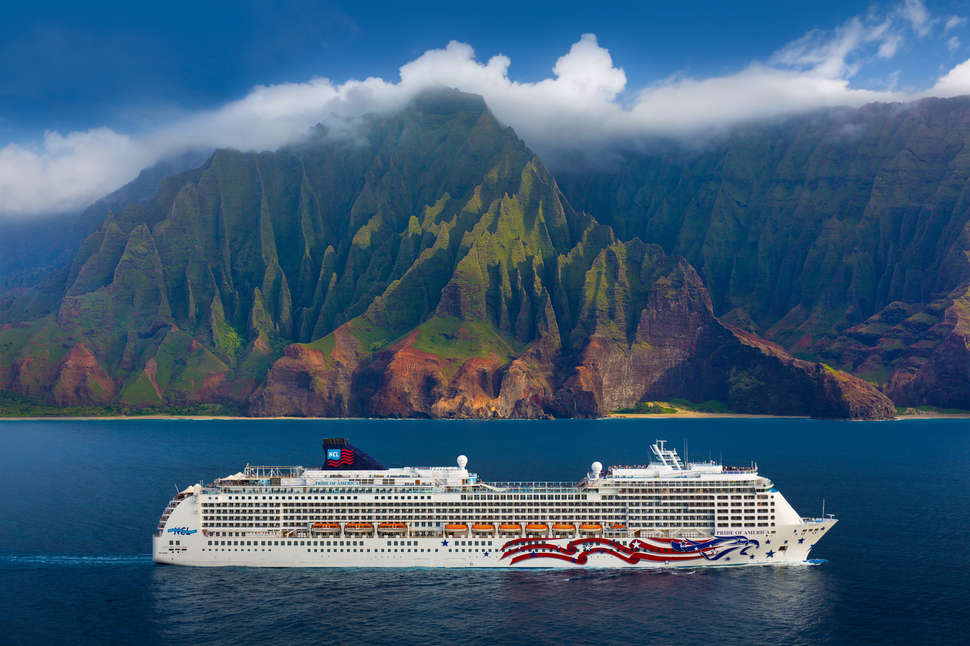 "That was pretty significant when the eruption occurred and the [land-based] visitors went away," Birch said.
Except for a week in June, the Pride of America made most of its scheduled calls at Hilo and Kona during the eruptions.
But Sandi Weir, vice president of destination development and government relations at Norwegian, said some travel agents shied away from sending guests or making future bookings while eruptions were still happening.
It didn't help that Hurricane Lane also made landfall in late August.
The combination, Weir said, left the line in the unusual position of having to solicit bookings on a ship that is typically an easy sell.
Since 2004, Norwegian has been the only cruise line offering seven-day, interisland cruising. Because the Pride of America is U.S.-flagged, it is not required under cabotage laws to visit a foreign port in the course of its cruise. Through August, 38 foreign-flagged cruise ships had visited Hawaii since Jan. 1, down from 43 for the same period last year, meaning cruise visitors were down 6.8% for the year.
Stuart said he hopes the offer of free air will get people to pay attention to the fact that Hawaii's circumstances have changed since August.
"We wanted to do something that would really make people lift their heads," he said.
Stuart said Norwegian's itinerary of five calls on four islands showcases Hawaii's striking variety and unique culture.
"It's a domestic destination that doesn't feel like a domestic destination," Stuart said.
Birch said there are new reasons to come to the Island of Hawaii. One is air quality. For the first time in decades, the particles and noxious gases that lava pushes into the atmosphere have disappeared, he said.
Although the lava flows claimed a number of vacation rentals, accommodations are a relative bargain now, Birch said.
And over the past four years, the Island of Hawaii had doubled its airlift, growing from about 615,000 seats in 2014 to some 1.3 million this year.
"Our industry is ready and prepared," Birch said. "We're waiting for everybody to come back."