In recent years, the river cruise market has been one of if not the hottest growth sectors in the industry, but heading into 2015, it finds itself on the cusp of a market-changing development in the form of greater diversification among river cruise players.
As they seek to better differentiate themselves, river cruise lines are gradually creating stronger brand identities.
For example, the Uniworld Boutique River Cruise Collection is going after the uber-luxury river cruise space with its six-star brand promise and over-the-top hardware that will extend to its 2015 launch of the 155-passenger Danube cruiser S.S. Maria Theresa.
AmaWaterways has made a name for itself among foodies and oenophiles for its extensive wine-themed cruises and impressive food-and-beverage program. In 2015, Ama will launch two sister ships in Europe, the 164-passenger AmaSerena and the 164-passenger AmaVista, which will bring the company's European fleet to 16 vessels, all featuring multiple dining venues and a well-curated wine selection.
Meanwhile, Avalon Waterways is going after the choice generation, travelers who want to customize their experience. With its Avalon Choice Cruising program, the company has worked to build multiple dining and excursion options into its river cruises. The line will introduce two newbuilds in Europe for 2015: the 128-passenger Avalon Tranquility II and the 166-passenger Avalon Tapestry II, bringing its European fleet to 15.
Tauck has made its strength as a land operator a standout trademark in its river cruise operation, which is dotted by onshore experiences designed to surprise and thrill passengers (think dinner and entertainment in a remote castle setting). And as it starts to see more success in the river cruise niche it has carved out for itself, Tauck is gradually expanding its fleet, as well. In 2015, it will launch the 118-passenger Esprit, bringing the company's European fleet size to seven.
For travelers who like brand uniformity, it's hard to compete with the strength of the Viking Cruises brand. Viking has ordered an additional 12 river cruise ships for 2015: 10 Viking Longships and two smaller vessels for the Elbe River. The additions will bring the company's European river fleet total to a staggering 64. Of those, 40 will be Longships, which are all virtually identical vessels, creating a truly uniform experience across rivers and destinations for the passenger who craves the comfort of consistency.
Scenic Cruises, meanwhile, is looking to court boutique hotel lovers with forward-thinking amenities like a new pool concept. Its two 2015 Europe vessels will feature a relaxation pool adjacent to a jet-stream pool for lap-style swimming. And its sister company, newcomer Emerald Waterways, is having fun with public areas like a roof-deck pool that converts into a cinema at night. Emerald is doubling its fleet size to four vessels next year.
Clearly, there's no resting on their laurels for river cruise lines. With stiffer competition, they are getting increasingly innovative, and it's making things interesting. Take French river cruise company CroisiEurope, which is launching a paddlewheeler — yes, a paddlewheeler — though not the kind you're familiar with. This will be a smaller European version that will navigate the Loire River in April. The 96-passenger Loire Princesse, the first overnight passenger vessel on the Loire, promises to be a unique offering.
Exotic river rush
Rivers in Asia and South America will continue to see investment into 2015, with a greater emphasis being placed on luxury services and amenities.
AmaWaterways is introducing the 124-passenger AmaDara on the Mekong River in August, featuring a salon and spa services, a swimming pool and an onboard fitness center. One month later, Haimark Travel will launch its Southeast Asia spa-concept vessel. The 24-passenger Mekong Princess will place a strong emphasis on spa treatments and services.
Avalon is also introducing two 36-passenger Suite Ships in Asia next year, one on the Mekong and another on the Irrawaddy River in Myanmar.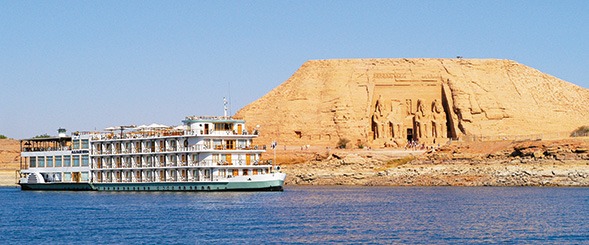 With any luck and a reprieve from political unrest, 2015 promises to be the year cruising returns to Egypt's Nile River, as the country begins to see some semblance of stability after years of turmoil.
Abercrombie & Kent's Nile fleet is already up and running, while Uniworld's luxury Nile vessel, the River Tosca, is gearing up to begin sailing once again in September.
Another paddlewheeler here at home
In March, American Cruise Lines will launch its second built-from-the-ground-up paddlewheeler on the Mississippi, the 150-passenger American Eagle.
The vessel will feature 84 staterooms, 78 of which will have private balconies with sliding glass doors. There will be multiple drinking and dining areas and an outdoor exercise area with a putting green. Elevators will provide access to all five decks.
The American Eagle, which will sail mostly eight-day cruises along the Mississippi, will bring to three the number of paddlewheelers plying the Mississippi in 2015.